If you don't have an Apple Watch, today is the day to change that, ladies. The Apple Watch 4 Series is on sale today for up to $70 off Amazon. That's right: Four color options are $50 off, and the Black Stainless Steel with Black Sport Band is $70 off.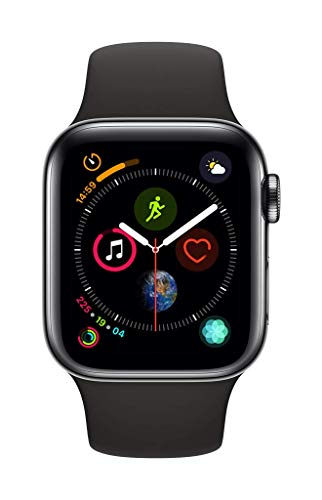 ICYMI, the 4 Series is the most advanced Apple Watch yet. And if you plan to use it for your fitness routine, it has some pretty amazing features. The display is the biggest yet (you can choose between 40mm or 44mm). Plus, its speaker is 50 percent louder than previous models (so you can blast that J. Lo while streaming Apple Music for all to hear).
Not only will it track your workouts (from miles logged to cadence tracking to pace alerts), it offers both yoga and hiking workouts and also comes with a personalized coaching feature that can give you monthly challenges and rewards you with achievement awards. Plus, its swimproof if you're putting in pool laps or training for that summer triatholon.
It also comes with the Apple Watch's most advanced heart monitoring features yet, courtesy of an electrical heart sensor. If your heart rate rises or falls to concerning levels, it will alert you so you can seek help ASAP.
Another cool safety feature: The Apple Watch 4 Series comes with an improved accelerometer and gyroscope for fall detection. If you do happen to wipe out, you can place an emergency call quickly with just a tap of a button.
Really, the Apple Watch 4 Series is the accessory you're missing out on. Snag it today for that sweet discount.
Source: Read Full Article