My family of four just returned from a three-week road trip adventure throughout Canada, the Adirondacks, Connecticut, New Jersey, back through Pittsburgh, and home.
Being a dietitian and the father of a seven-year-old and a 10-year-old, I knew that we had to have a plan. So my wife and I brought a bevy of easy-to-eat, protein-rich, fiber-friendly snacks for the trek. Although even with all the apples, snack bars, tuna cups, and jerky, we also realized that at some point we would have to stop for a meal along the route.
We needed food that was fast and easy, but also provided quality nutrition and solid flavor. Here are the best options we found along the way. Whether you're on a family road trip or traveling for work, these meals will fill you up without slowing you down.
At Starbucks…
Their Eggs & Cheese Protein Box was a favorite with our kids, plus it was relatively easy for them to eat in the car (minimal mess). My wife and I liked the Sous Vide Egg Bites, which are a hot, portable, high-protein option.
There are plenty of other picks too. "With three kids, and being one of two full-time working parents, I'm on the road a lot," says Dana White, R.D. "My go-to [at Starbucks] is a tall iced coffee, tomato & mozzarella panini and a KIND bar. This combo of real foods has plenty of protein, fiber, and healthy fats."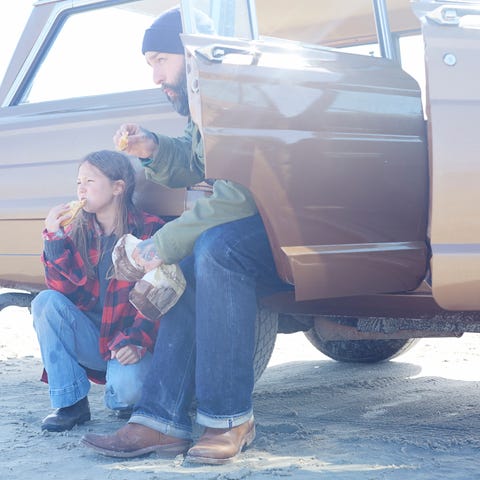 Getty Images
At Panera…
While it's nice to enjoy a salad if we're eating in at this place, for an on-the-go option, it's all about the BBQ Chicken Flatbread. The flavor is great and it's has a solid nutrition profile with 24 grams of protein for just 400 calories.
At McDonald's…
While Panera and Starbucks have done a great job leading the pack with mostly better for you choices, don't hate on McD's. My favorite order is two Egg McMuffins (you can order them any time of the day), take the filling out of one of them, toss the other two muffins, and double stack. For 34 grams of protein (when doubled up), it's a decent option for when you're on the run.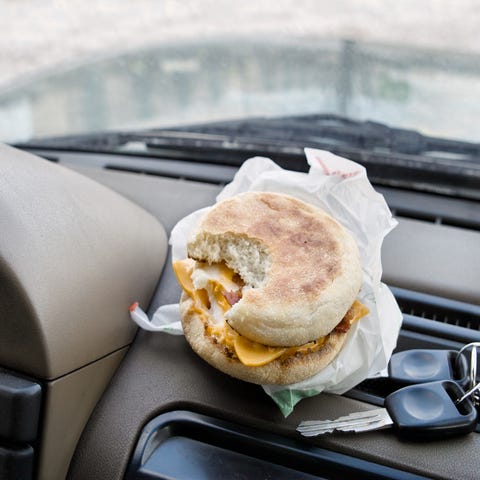 Getty Images
At Wendy's…
Try the Berry Burst Chicken Salad. Packed with 42 grams of protein and seven grams of fiber, this salad keeps you full for awhile and doesn't break the bank. Just eat it while you're parked. Never eat a salad and drive.
At Chick-Fil-A…
Chick-fil-A has several solid options, including the Grilled Cool Wrap that has an impressive 43 grams of protein and just 350 calories. It's also easy to eat in the car—the tortilla keeps all the bits and pieces in place so you're less likely to have half the toppings fall onto the seat of your car.
At Taco Bell…
The Bell offers a ton of customizable options, so take advantage. One good idea: Order a bean burrito and add chicken. It's portable meal that packs in fiber from the beans, and carries protein from the chicken.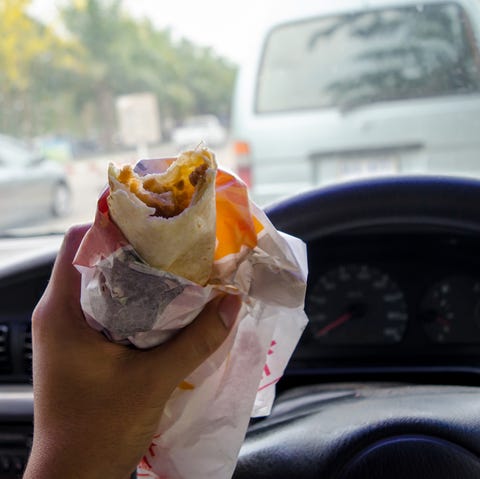 Getty Images
At Chipotle…
Customizing here is easy and also necessary. Steer clear of the burrito calorie bombs and instead try the Veggie Bowl and add steak. This way you get more veggies and the protein and iron rich steak to boot. Add black beans, tomato and roasted chili corn salsa, and also go light on the Monterey jack cheese (and skip the sour cream). This meal rings in at around 500 calories, close to 40 grams of protein, and nearly half your daily dose of fiber.
Source: Read Full Article