You know how I know it's basically summer? Starbucks has begun rolling out its line of pretty pretty summer merch, POPSUGAR reports. And while it hasn't yet gained as much news traction as Starbucks' color-changing recyclable cups, their new rose gold jeweled tumbler is sure to be a gigantic summertime hit.
Here's what we know about the new product so far: It's a 24-ounce vehicle for coffee, it's covered head-to-toe in rose gold-tinged jewels of sorts, and it's going for $19 where it's already being sold. Another thing we're sure of? People are freaking out over the new product on Instagram in a way we haven't seen since…The Great S'mores Frapp Return Of 2019.
See?
https://www.instagram.com/p/Bw2Tp3-gYOk/
⭐️NEW STARBUCKS TUMBLER ALERT⭐️ This post is for all my die hard @starbucks tumbler collectors!!⭐️I spotted these new beauties at my local Starbucks today and fell in LOVE!!⭐️Anyone else a Starbucks cup hoarder like me?⭐️ . . @starbucks @thisisourneverland #starbucks #coffee #starbuckscups #starbuckstumbler #starbuckscoffee #rosegold #rainbow #abc7eyewitness
A post shared by🏰✨This is Our Neverland✨🏰 (@thisisourneverland) on
https://www.instagram.com/p/BxAOuGSHXKO/
Who's mad 😠 they weren't able to get their hands on these new iridescent Rose Gold cups?
A post shared byJudith (@instadisneyy_) on
https://www.instagram.com/p/BxAMx3iBKaU/
Just what I need, another @starbucks tumbler 😆 Can't resist the rose gold and fun texture! #starbucks #starbucksrosegold #rosegold #starbuckstumbler #tumbler #reusable #reusablecup #icedcoffee #waterbottle #spring
A post shared bykay819 (@kay819) on
https://www.instagram.com/p/Bw4kf2sFVYe/
Starbucks 2019 Sparkle Rose Gold Jeweled Tumbler 🤑🤑 Such a beautiful cup!#starbuckstumbler #starbuckscup #starbucksrosegoldtumbler
A post shared byAdrianna💋 (@icatchdeals_) on
https://www.instagram.com/p/BxACQ_agMeC/
Had to scoop her…She's so prettttyyy😍 #starbuckstumbler #rosegold #sosparkly #ilovestarbucks
A post shared byCurvy Baldie🌻 (@the_bald_muse) on
Above all else, people seem drawn to the combination of a gorgeous color and a crazy-fun texture. Additionally, there's a lot of talk of "scooping" the pink bbs up, implying they're (1) going quickly once spotted and (2) probably not yet fully stocked up in stores. That means you too should swoop 'n' scoop when you see them.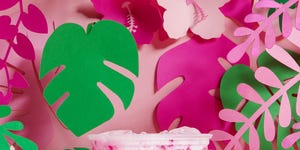 Source: Read Full Article