Nick Roubanis' father died at the age of 74. The last 10 years of his father's life, he explained, were "very hard on him health-wise." His father's own health is one of the many reasons Roubanis, a 5'8'' guy from Whitestone, New York, says he had to lose weight from his heaviest point of 269 pounds.
And lose weight he did: All it took was a few hundred kettlebell swings and a recommitment to his own self-worth.
"I think about him every day. He motivated me to make this change and I have made a commitment to be the best father to my children, best husband, and overall best version of me moving forward," Roubanis says. But let's back up a bit and find out how he got to that 269-pound mark in the first place.
Roubanis spent the decade after college working on everything but his health. He landed a job, one that was both a bit stressful and demanding on his time. That meant his health took a backseat to work and both fast and processed foods became a normal part of his routine.
At the age of 32, when he hit that 269 pounds, was an asthmatic that took medicine twice a day that allowed him to breathe, as well as a rescue inhaler at least 15 times a day.
"I was experiencing numbness in my arms at night. When I went to the doctor, they started discussing blood pressure medication as well as testing that I couldn't believe I needed at such a young age," Roubanis says.
At the same time that his health seemingly hit rock bottom, something else happened that pulled him quickly up out of his rut: In 2012, he got married to his wife—and figuratively married to CrossFit.
"At first, I just joined the gym and thought that I could maintain a similar diet," Roubanis explained. "I faced many challenges, including injuries to my back and legs mainly because I had neglected my fitness for such a long time. I lacked the confidence and motivation because I could not keep up or I was just simply in pain."
But Roubanis' trainer, Anthony Lucic at CrossFit Bell in Long Island City, wasn't going to let that low-self worth last for long. Instead of wallowing, the pair quickly got to work. Within weeks, Roubanis said he began to see results, and in seemingly no time at all, he dropped 60 pounds to meet his new normal of 208 pounds.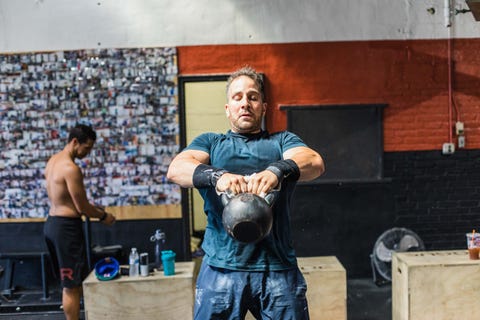 Anthony Lucic
"It's impacted every part of my life," says Roubanis, now 40 years old, of the last few years at Crossfit. "I've learned to appreciate my life. I've implemented the philosophy of CrossFit in my work and personal life. I am a better father and husband because my outlook on life is positive."
Of course, Roubanis had his moments of struggle. Along the way, he needed to re-learn how to eat correctly and to manage portions that had become far too out of control.
"Overeating is a habit that could gain traction very easily," he says. To this day, he's still constantly managing this urge. But, what worked for Roubanis was staying open and honest with his wife and his trainer any time he "fell off" to ensure he got right back on track.
Beyond weight, his confidence increased, too. He explains that he now "looks forward to challenges and embrace life in a favorable manner. I'm not as stressed as I used to be and I feel like an overall better human."
Perhaps best of all, he now feels like he's a good example for his children. "I have two children, James, 5, and Penelope, 3, and I'm physically able to keep up with them," he says. "My health has taken a 180. I look forward to going to the doctor and getting a clean bill of health. My asthma is completely under control without any medication."
As for what he believes was the most important step to taking control of his health, Roubanis said it's all about finding help. "Find a support system you can communicate with. Set daily weekly and monthly goals. Stay the course and the results will follow," he says. "Surround yourself with like-minded individuals that will help you achieve your goals."
Source: Read Full Article