There's a new school of fish farmers who are raising better, safer fish for Americans like you who don't eat nearly enough. The big benefit: With the recipes that follow, the fish taste amazing too.
Stand in front of any seafood counter and you may start to feel paralyzed. "Wild," "farm-raised," "processed in the U. S.," "sustainable," "organic"—all these terms pounce on your brain and the next thing you know you're fleeing the fishmonger and picking up another family pack of chicken breasts.
I don't blame you for being confused. I've been reporting on the fish industry for more than 15 years and I'm often still confused. Even if you order, say, a nice fillet of sea bass, there's only a 45 percent chance that's what you'll receive, according to a 2019 report by the advocacy group Oceana.
For the past 30 years, Americans have consumed about 15 pounds of fish and shellfish per person every year—more than 10 pounds shy of the recommendation.
But here's the shocker: That's 204 pounds less than the amount of meat (beef, pork, chicken, etc.) they eat.
Present this fact to doctors and dietitians and they'll likely shake their heads. Nearly all fish and shellfish deliver about twice as much protein per calorie as beef. Comparatively, seafood also contains much more heart-saving omega-3 fatty acids, immunity-boosting vitamin D, and inflammation-fighting selenium.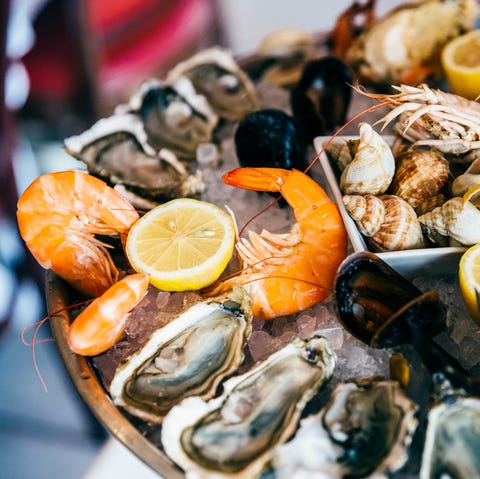 Getty Images
Our modest seafood appetite also means a struggling American seafood economy. Although the U. S. controls more ocean than any other country, we import a whopping 80-plus percent of the fish and shellfish we eat.
The majority of that seafood is farmed in large pens, often in nations with poor health and environmental oversight. China, Thailand, Indonesia, and Vietnam—countries with limited domestic regulation—are four of our five biggest farmed-seafood suppliers.
Luckily, the tide is turning. A new generation of North American ocean farmers are learning from the past mistakes of aquaculture and implementing changes (guided by comprehensive federal rules) to offer an alternative to polluted, antibiotic-treated foreign farmed fish.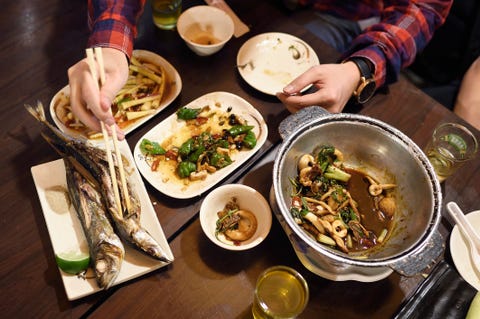 Getty Images
"American fish farmers work hard to meet stricter regulations than what you find in some places overseas," says Carrie Brownstein, the seafood quality standards coordinator for Whole Foods, who develops sourcing policies for the company.
This means you can start eating better-tasting, better-for-you fish that's also better for the planet. Here's how.
Mussels Are Safer to Eat Than Ever
The Federal Clean Water Act, passed in 1972, has made U. S. waterways significantly cleaner and safer today than they were at their worst in the '70s, and this—combined with advances in technology, greater cooperation between state and federal agencies, and rising demand—has caused a boom in fish farms, especially shellfish farms.
In the past decade, the number of growers has climbed significantly, with new operations stretching up the East Coast from Chesapeake Bay to New England and on the West Coast from northern California to southeastern Alaska.
For the average man, consuming a large number of oysters, clams, or mussels will only do good. Shellfish are a light meal; a dozen raw oysters have about as many calories as a single large banana.
Farmed shellfish are increasingly threatened by warm-water-induced outbreaks of vibrio bacteria, but shellfish-producing U. S. states have strict monitoring and temperature controls to reduce the vibrio risk. So if it's American, go to town.
Oysters, ready for at-home shucking, are now found at many good grocery stores, as are big bags of mussels, like those grown by Carter Newell of Pemaquid Mussel Farms in Maine.
Mussels are another high-protein, nutrient-dense shellfish, and as a meal, they're practically screwup-proof. In fact, they tell you when they're done. Place them in a large pan or pot, along with a delicious bath of beer (and bacon!), and steam until their shells pop open. That's them basically saying, "Eat me!"
Beer Mussels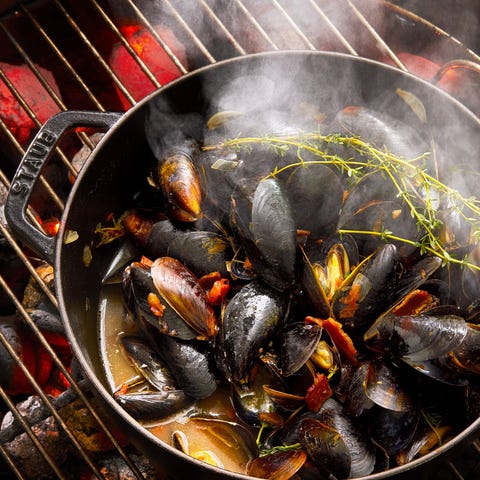 Mike Garten
What You'll Need:
2 strips bacon, chopped
2 garlic cloves, thinly sliced
1/4 white onion, diced
2 plum tomatoes, diced
2 thyme sprigs
1/2 bottle lager
1 lb mussels, scrubbed and debearded
Crusty bread, toasted, for serving
How to Make It:
In a large cast-iron pan or Dutch oven over medium heat, add the bacon and cook till crispy, 3 to 5 minutes. Add the garlic and onion and cook, stirring constantly, till the onion is translucent, about 1 minute. Add the tomatoes, thyme, beer, and mussels. Cook, covered, till the mussels open, 5 to 7 minutes. Serve immediately, using the bread to sop up the sauce. Feeds 2
Farmed Salmon Can Be Better Than Wild
You've likely heard the urban legends: Salmon farmers deceive customers by adulterating their fish with colorants to give the fillets a rosy hue. Farmed salmon have higher levels of PCBs, a probable human carcinogen, than their wild kin. Behemoth "Frankensalmon" run amok in the planet's oceans.
But these stories are of the early days of salmon farming, when small, homemade cages were used instead of the highly engineered structures of today.
In the past, contaminants could have made their way into salmon flesh from the wild fish that farmers ground up and incorporated into the feed. You ate the fish and you ate the contaminants, too.
Farmed salmon is now fed mainly vegetable-based protein, resulting in little if any difference in nutrition and color compared with wild. Most fish sold as Atlantic salmon comes from farms that follow these practices.
Not sure if the salmon you're about to buy does? Ask the person behind the seafood counter. Are they not sure? Find another seafood counter.
This year, the Norwegian aquaculture pioneer Johan Andreassen will open Atlantic Sapphire in Homestead, Florida, the largest recirculating salmon farm in North America. Look for salmon from Atlantic Sapphire's Florida facility to hit American shelves by next spring (and salmon from Sustainable Blue, in Nova Scotia, by the end of 2019).
For now, buy Blue Circle salmon, which is farmed in Norway with high production standards. Whole Foods has it.
Farmed salmon tends to have more fat than the wild kind. That's actually a good thing, because it makes the fish harder to overcook. Flash-grilling over high heat helps crisp the skin while guiding the center to tenderness.
Grilled Salmon with Spicy Cucumber Salad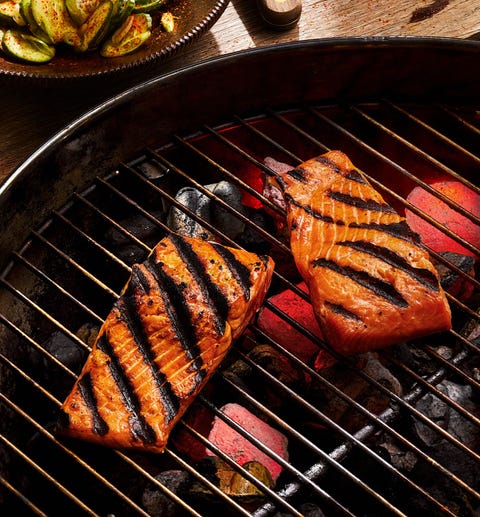 Mike Garten
What You'll Need:
1/2 cucumber, very thinly sliced
2 scallions, thinly sliced, 1 Tbsp green parts reserved for garnish
1 Tbsp rice vinegar
1/4 tsp Japanese 7-spice or crushed red pepper flakes
Pinch of sugar
2 (3 to 4 oz each) skin-on salmon fillets
How to Make It:
1. In a medium bowl, combinethe cucumber, scallions, vinegar, 7-spice, sugar, and salt to taste. Mix well and place in the fridge.
2. Preheat your grill to high; oil the grates. Pat the salmon dry with paper towels and season each side with a pinch of salt. Place the salmon on the grill, skin side down. Grill until the skin crisps, 2 to 3 minutes. Flip and cook until the flesh is just pink throughout, about 2 minutes. Remove from the heat.
3. Spoon the cucumber salad onto 2 plates, followed by a salmon fillet each, presented flesh side up. Top with the scallion greens. Serve (and eat the skin!). Feeds 2
The New Super Fish is Yellowtail

Tilapia has overtaken American markets in the past two decades, in part because it's plentiful and cheap. But eating it comes at a cost.
Foreign tilapia may contain unsafe levels of antibiotics, as a study in the Journal of Hazardous Materials found. And countries that farm tilapia often do so with workers who toil under dangerous conditions.
None of this is the case with California yellowtail. Yellowtail grow rapidly, are quick to breed, and don't seem to mind close quarters. Most important, if they were to escape, they would either assimilate into the local population (California yellowtail are endemic to the state's southern coast) or die—not rampage like salmon.
Don Kent, president and CEO of the Hubbs-SeaWorld Institute (a research organization, not the aqua-zoo), is working to place a California yellowtail farm off the coast of that state.
He points out that fish farming in the open ocean produces few, if any, harmful byproducts, unlike the drought-vulnerable, multibillion-dollar beef industry: "Should we put all our energy into growing beef, which takes hundreds of gallons of fresh water to bring a single pound to market, or should we grow yellowtail offshore, which doesn't take any fresh water at all?"
From a nutrition perspective, focusing on raising fish over land animals also makes sense. Yellowtail is comparable to beef in its protein per ounce, and its fatty-acid profile is similar to that of salmon. It has a meaty, flaky texture, but a lighter flavor, like most of the whitefish that Americans enjoy.
Until yellowtail farms are operational, try its close cousin, hamachi. (You can find a distributor at bofish.com.) Both are well suited for a quick sear on the grill or a gentle simmer, as in this fish curry dish.
Fast Fish Curry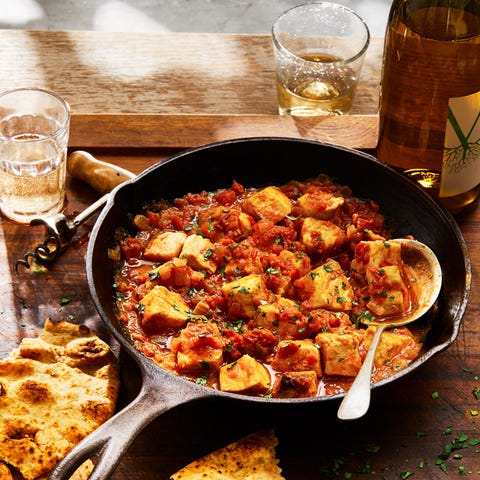 Mike Garten
What You'll Need:
1 tsp canola oil
1/2 medium onion, chopped
2 tsp curry powder
1/2 tsp ground cumin
4 medium tomatoes, chopped
1/2 serrano or jalapeno pepper, thinly sliced
1 lb skinless yellowtail fillet, cut into bite-sized pieces
Chopped cilantro, for garnish
Warmed whole-wheat naan, for serving
How to Make It:
In a large nonstick pan over medium heat, add the oil and onion. Cook, stirring occasionally, until slightly browned, 5 to 7 minutes. Add the curry powder and the cumin and stir well. Add the tomatoes and the hot pepper and cook, stirring occasionally, till thickened, about 15 minutes. Add the fish and cook, stirring occasionally, until cooked through and flaky, 3 to 5 minutes. Garnish with cilantro and serve immediately with naan. Feeds 4
Farmed Shrimp Has Big Flavor
Americans eat more shrimp than any other seafood (salmon ranks second), but the vast majority of those crustaceans come from foreign farms that can have poor environmental oversight.
In 2015, Consumer Reports tested 342 packages of frozen shrimp (284 raw and 58 cooked) and found one or more types of bacteria on 60 percent of the raw samples. Seven of those samples tested positive for MRSA (methicillin-resistant Staphylococcus aureus), an antibiotic-resistant bacteria.
There's a business that's now trying to do better. It resides in, of all places, a former mattress factory in Newburgh, New York. Jean-Claude Frajmund launched ECO Shrimp Garden, a containment shrimp farm, within commuting distance of high-end restaurants in New York City.
Inside his facility, 16 tanks that look like oversize above-ground swimming pools sit neatly under humming fluorescent lights. Much like safer salmon, safer shrimp grow inside a recirculation (or recirc) system. That means the tanks recirculate fresh water at all times in order to keep the shrimp, which are notorious for waste production, living in clean, bacteria-free conditions.
This past March, ECO Shrimp Garden began distributing to Whole Foods and Fairway Market. Farmed shrimp taste surprisingly fresh. They're slightly briny and a little sweet, which makes them a great match for peel-and-eat shrimp boils, shrimp and grits, or the faux-lobster rolls below.
Grilled Shrimp Rolls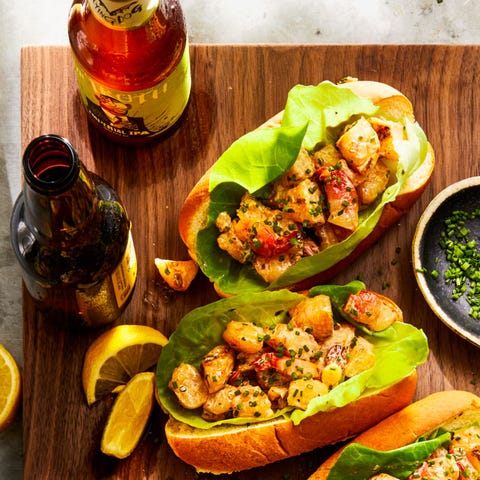 Mike Garten
What You'll Need:
2 lb shrimp, peeled and deveined
1/2 cup mayonnaise
1/4 cup finely chopped chives, plus more for garnish
Old Bay Seasoning, to taste
8 Boston lettuce leaves
8 split-top rolls
1/2 lemon, cut into wedges
How to Make It:
1. Preheat yourgrill to high; oil the grates. Add the shrimp and grill till pink, about 2 minutes per side. Transfer the shrimp to a cutting board, roughly chop, and toss in a large bowl with the mayo, chives, and Old Bay Seasoning.
2. To assemble a sandwich, tuck a lettuce leaf into a roll and fill with shrimp salad. Scatter with chives and additional Old Bay, if desired. Repeat with the remaining ingredients. Makes 8 sandwiches
Source: Read Full Article