SAN Antonio – How do you shoot at an invisible target? It seems counterintuitive, but trastuzumab deruxtecan (T-DXd) (Enhertu), which combines an antibody targeted to HER2 with a toxic payload, showed promising preliminary activity against localized hormone receptor–positive breast cancers with only low levels of HER2 expression (HR+/HER2-low).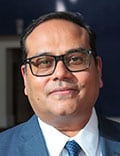 Dr Aditya Bardia
n the investigator-initiated TRIO-US B-12 TALENT study looking at neoadjuvant T-DXd either alone or in combination with the hormone therapy anastrazole, the objective response rate (ORR) with T-DXd alone was 68%, compared with 58% for T-DXd plus anastrazole, reported Aditya Bardia, MD, MPH, a medical oncologist with Massachusetts General Hospital Cancer Center in Boston. He recently presented the study findings at the 2022 San Antonio Breast Cancer Symposium.
"The study provides a rich platform for additional translational research to evaluate more sensitive methods of HER2 detection, develop predictive biomarkers, and understand mechanisms of resistance in residual disease which would guide subsequent therapeutic strategies, including combination therapy," he said in an oral abstract session at the meeting.
Not-So-Innocent Bystander
In an interview, Bardia explained that the T-DXd may have efficacy in HER2-low cancers because of a bystander effect.
"With these antibody drug conjugates, if you have the antigen, the ADC binds to the antigen, gets internalized, and releases the payload, but the payload has a bystander effect … it's membrane permeable, so it can go outside and affect other cells that do not express the antigen. So for HER2-low tumors, even if there is HER2 heterogeneity or if there are some cells that do not express HER2, this would work because of the bystander effect," he said.
Although neoadjuvant chemotherapy with an anthracycline and taxane is often used to treat patients with high-risk localized HR-positive breast cancer, the therapy is associated with low pathologic complete response (pCR) rates, radiological response rates of around 50%, and significant toxicities, including myelosuppression, neuropathy, cardiomyopathy, and leukemia risk, Bardia said.
At Cross Purposes
The trial included both a T-DXd monotherapy arm and a second arm containing the antibody drug conjugate (ADC) with endocrine therapy. The rationale for the latter is that there is documented "cross-talk" between the estrogen receptor (ER) and HER2.
"In tumors that become endocrine resistant, you see an increase in the HER2 pathway, and if you block ER, you see that HER2 goes up and vice versa. If you just block HER2 alone, the expression of ER can go up, and if you block the PI3 kinase alone, the expression of ER goes up," he said.
Dual blockade can be effective with antibody-based therapy or with tyrosine kinase inhibitors, but with an ADC, the dual blockade strategy may be less effective, Bardia said, "because if you have an ADC, you need HER2, the ADC binds to HER2, then gives the payload to the cancer cells and essentially kills the cancer cells," Bardia explained in a media briefing held prior to his presentation.
In fact, the T-DXd–anastrozole combination was associated with a lower overall response rate in the study than T-DXd alone, but Bardia cautioned about overinterpreting these results, as the study included only 39 patients.
Study Details
The investigators enrolled 58 patients – 56 pre- and postmenopausal women and 2 men – with HR+/HER2-low tumors determined by local and/or central review, and operable stage II or III cancers.
After stratification by HER2 expression level and menopausal status, the patients were randomized to receive either T-DXd alone at a dose of 5.4 mg/kg, or with T-DXd at the same dose plus anastrozole, with men and premenopausal women also receiving a gonadotropin-releasing hormone analog.
The protocol originally called for six cycles of therapy, but was amended in February 2022 to increase the number to eight for newly enrolled participants and patients who were already on study treatment but had not yet had surgery.
The majority of patients in each arm had invasive ductal cancers, and most had HER2 expression on immunohistochemistry (IHC) of 1+, which is generally considered to be HER2-negative. However, there was only modest concordance between local and central review in determining HER2 expression levels, Bardia noted. Indeed, the entire question of HER2-low cancers, whether they compose a separate clinical entity from other cancers and how to standardize testing, was the subject of a special session at this year's SABCS.
Results
Overall response rate, the primary endpoint, was 68% in the T-DXd arm and 58% in the T-DXd plus anastrazole arm.
Although the low response rate with the combination suggests that endocrine therapy may not be helpful in this patient population, it's still too early to say so conclusively, Bardia said.
Looking at the change in HER2 expression by IHC from baseline to surgery, they found that 48.6% of patients had a change in HER2 IHC expression after T-DXd treatment, and that nearly 90% of these patients had a decrease in expression levels.
Among 42 patients with available data on residual cancer burden (RCB) at the time of data cutoff, one patient in the T-DXd alone arm with stage 3A disease had an RCB of 0, equivalent to a pathologic complete response (pCR). There were no other RCB 0 tumors after surgery in either study arm. The rate of combined RCB and RCB 1 (near pCR) was about 15% in each arm.
In all, 3 of the 58 patients in the study (5.2%) required dose reductions because of adverse events. There were no cases of grade 3 or greater pneumonitis, and no cases of either cardiomyopathy or neuropathy.
Way Better Than Chemotherapy?
"It was very exciting when we got the DESTINY-Breast04 results showing this impressive activity of trastuzumab deruxtecan in this HER2-low entity, and now we know that hormone-positive [tumors], the majority of them are HER2-low. It was really encouraging, it was practice changing, but we were left wondering about this HER2-low entity, and can we act on it in the earlier setting," commented Jason A. Mouabbi, MD, from the University of Texas MD Anderson Cancer Center in Houston.
"The beauty of the TRIO-US B-12 TALENT study is that it looked at the neoadjuvant setting where we know those patients who are hormone-positive usually do not respond well to chemotherapy," he said in an interview.
He said that although the study didn't compare T-DXd to chemotherapy, "it's an excellent first start."
An overall response rate near 70% "is something amazing. I'm really excited to see it against chemo. I think it's going to do way better," Mouabbi said.
The study was conducted by the Translational Research In Oncology (TRIO)-US network. Funding was provided by Daiichi Sankyo, the maker of trastuzumab deruxtecan (Enhertu). Bardia serves as a consultant or advisory board member for Pfizer, Novartis, Genentech, Merck, Radius Health, Immunomedics/Gilead Sciences, Sanofi, Daiichi Sankyo, AstraZeneca, and Eli Lilly, and has received research funding from Genentech, Novartis, Pfizer, Merck, Sanofi, Radius Health, Immunomedics/Gilead Sciences, Daiichi Sankyo, AstraZeneca, and Eli Lilly.
Mouabbi disclosed honoraria from BostonGene, Cardinal Health, Napo Pharmaceuticals, and Fresenius Kabi.
This article originally appeared on MDedge.com, part of the Medscape Professional Network.
Source: Read Full Article