Doctor Sentenced for Unlawful Prescriptions Leading to 5 Patient Deaths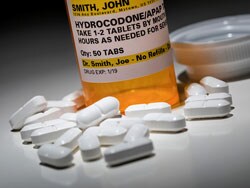 Darrel R. Rinehart, MD, was sentenced to 3 years in prison in June 2021 for unlawfully distributing controlled substances, primarily opioids, out of his clinic in Columbia, Tennessee. Five of his patients who received prescriptions died of fatal overdoses within a year, according to the Indianapolis Star. Rinehart agreed to leave Tennessee to avoid punishment in that state before setting up his Indiana clinic.
Rinehart, 66, admitted to distributing Schedule II controlled substances to four different patients without legitimate medical purpose on 18 occasions between December 2014 and December 2015. He also admitted to knowingly distributing hydrocodone, also a Schedule II controlled substance, in January 2016 to a patient who did not have any health issues justifying the prescription. His medical license has been revoked.
Judge Approves $15 Million Settlement in Patient's Sexual Assault
An incapacitated woman at Hacienda Healthcare, a long-term care center in Phoenix, Arizona, gave birth in late 2018 after being raped by one of the nursing staff, according to Insurance Journal. In June 2021, a judge approved a $15 million settlement in a lawsuit by the woman's parents against Phillip E. Gear Jr, MD, the woman's caregiver for 26 years at the center. The woman had been in a vegetative state at Hacienda Healthcare since childhood, and the judge ruled that she had been the victim of numerous sexual assaults prior to the birth.
The pregnancy was discovered when an employee was changing the garments of the then 29-year-old victim and saw that she was delivering a child. Employees told police they had no idea the woman was pregnant. Police have said DNA from Nathan Sutherland, a licensed practical nurse who worked at Hacienda and has since given up his nursing license, matched a genetic sample taken from the woman's son.
The woman's parents, who care for her son, also sued the state of Arizona and another doctor, Thanh Nguyen, MD, who cared for their daughter. Arizona, which contracts with companies like Hacienda to provide services to people with developmental disabilities, settled last year for $7.5 million. Both Hacienda and Nguyen, who cared for the woman in the months before the surprise birth, settled for undisclosed amounts.
The insurer for Gear, who died in late 2020, said it has no obligation to pay the amount, arguing that the doctor's policy didn't cover claims arising from a sexual act. The insurer also argued that Gear wasn't the woman's primary care physician when she gave birth and couldn't be held responsible for sexual assault.
The judge declared the $15 million settlement reasonable, concluding that Gear's treatment of the woman had fallen below the standard of care, which included failing to examine her regularly and diagnose her pregnancy. Requests by the woman's mother to have exclusively female employees tend to her were not followed, as evidenced by medical records.
Doctor Fired for Contributing to Suffering and Death of Prisoners
Washington's prison system will pay $3.25 million and has fired the medical director of one of its facilities, stemming from the death of an inmate.
John Kleutsch, a 57-year-old prisoner, died in late 2018 of septic shock, acute pancreatitis, and a perforated intestine caused by an improperly treated abdominal wound, according to the Seattle Times. A lawsuit filed by his wife, Julia Kleutsch, said that the staff offered him only Tylenol for his pain and that Julia Barnett, MD, the former prison medical director, refused to take him to hospital.
Barnett, whose medical license has been indefinitely suspended, was fired in 2019 after an internal investigation found that her medical care and supervision contributed to the suffering and deaths of several men in the prison, including Kleutsch.
Kleutsch, imprisoned for child molestation, was recovering from outpatient cancer surgery and sent back to the prison infirmary to recover. The lawsuit says that Kleutsch asked staff for help when his abdominal wound became excruciatingly painful, puffy, and oozing, and that at least one nurse asked Barnett to transfer him to a hospital, but she refused. Kleutsch's causes of death were conditions never diagnosed at the prison.
Plaintiff attorney Marta O'Brien called the case "one of the worst medical malpractice cases I have encountered" and said it showed "a systemic failure" by the Department of Corrections.
SNF Pays $11 Million to Resolve Medicare Fraud Allegations
SavaSeniorCare (Sava) and related entities agreed to pay $11.2 million in May 2021 to resolve allegations that they violated the False Claims Act by making their skilled nursing facilities (SNFs) bill Medicare for rehabilitation therapy services that were not reasonable, necessary, or skilled. The payment was also to resolve allegations that Sava billed the Medicare and Medicaid programs for substandard skilled nursing services, according to the US Department of Justice. Sava is based in Georgia but owns and operates SNFs across the country.
The government filed a complaint against Sava in 2015, alleging that between October 2008 and September 2012, Sava intentionally submitted false claims for rehabilitation therapy services as a result of a systematic effort to increase its Medicare and Medicaid billings. The claim alleged that Sava exerted significant pressure on its SNFs to meet unrealistic financial goals, resulting in the provision of medically unreasonable, unnecessary, or unskilled services to Medicare patients. Sava also allegedly sought to increase its Medicare payments by delaying the discharge of patients from its facilities, even though the patients were medically ready to be discharged.
Additionally, the government alleged that some of Sava's nursing services failed to meet federal standards of care, including failing to have sufficient staffing at certain facilities, failing to follow appropriate pressure ulcer and falls protocols, and failing to appropriately administer medications.
Follow Medscape on Facebook, Twitter, Instagram, and YouTube.
Source: Read Full Article