You Wouldn't Believe how good Nick Hexum looks. Seriously, it's like the 49-year-old frontman of 311 has been suspended in Amber. Hexum, who is touring this summer and about to release a new album, recently told People that it's all thanks to the low carb ketogenic diet.
He's not the only celebrity to sing keto's praises; Halle Berry, LeBron James and Vinny Guadagnino are all fans. And while some struggle with the restrictions involved in keto, Hexum said he finds ways to have fun with the diet: "I don't like to be too strict. I don't want to take the fun out of it and completely deprive myself… Most of the year I just eat a lot of eggs, salmon, I love macadamia nuts, stuff like that. I eat out plenty. I don't feel like I'm depriving myself. Some people try to eat too clean. I'm like, 'Just go crazy with the fats: butter, cheese, bacon.' Let it be fun!"
View this post on Instagram
Here's what I did this morning. @mhazardfitness told me this tire needed flipping. Who am I to argue?!
A post shared by Nick Hexum (@nickhexum) on
He also said that keto is a sustainable way to keep up his energy; because the last thing you need when you're touring is to feel Down. "I figured I could just eat as much as I want and have more energy," he said. "Once you get through that little keto bump and get adapted, you have much more sustained energy… It's not up and down like it is on a carb-rich diet."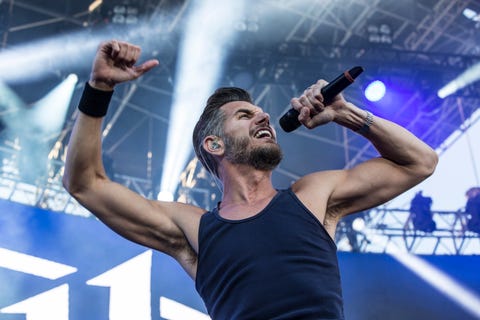 Harmony GerberGetty Images
Hexum and his 311 bandmates are putting out a new album on July 12, entitled Voyager, and they will be touring all summer, with no signs of slowing down despite having been in the business for 25 years. As Hexum sang all the way back in 2001: I'll Be Here Awhile.
Source: Read Full Article