A Florida oncologist who says that he was unfairly terminated from his job has filed a lawsuit against his former employer, Health First Medical Group, based in Melbourne, Forida.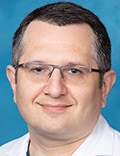 Dr Simon Vinarsky
In his lawsuit, Simon Vinarsky, MD, disputes the allegations that led to his termination and is seeking in excess of $1 million in damages.
Health First says that he was fired because of aggressive behavior toward other employees and that he had received negative feedback from patients.
Vinarsky says that these allegations are untrue.
In addition to losing his job with Health First, Vinarsky's privileges were revoked at Holmes Regional Medical Center, where he has cared for patients for more than 15 years.
"I want to go back to being a doctor, but I was terminated from the only hospital where I have privileges in this area," he told Medscape Medical News. "I had asked for mediation first, before filing a lawsuit, because I wanted my job back."
He emphasized that he would drop the lawsuit if he could return to work. "If I got my job back, that would allow me to see my patients again," he said in an interview.
Vinarsky also alleges that complaints he made about his employer's electronic medical record (EMR) system and senior management contributed to his firing.
Health First takes a very different view on the subject.
"It is unfortunate Dr Vinarsky's behaviors necessitated his employment termination for cause on June 14, 2021; however, Health First is unwavering in its commitment to deliver dignified care for all who turn to us in their time of need," said Nick Romanello, Esq, senior vice president and chief legal officer at Health First.
"During Dr Vinarsky's employee corrective action process, his attitude and actions towards patients and staff were addressed with him, and he acknowledged his actions needed to change, as they created a toxic work atmosphere," Romanello told Medscape Medical News. "As stated in Dr Vinarsky's employment contract, in the event employment is terminated for cause, all medical staff membership and privileges will result in an administrative termination."
Buyout and New EMR System
Vinarsky qualified as a physician in the Ukraine, graduating in 1997 from the Dnepropetrovks State Medical Academy.
He moved to the United States and completed a 3-year medical residency program at New York Methodist Hospital followed by a 3-year hematology/medical oncology fellowship program at the Long Island Jewish Medical Center.
In 2006, Vinarsky was hired by Melbourne Internal Medical Associates, which was bought by and merged with Health First in 2013.
Two years later, Health First acquired the Space Coast Cancer Center, which at the time had eight physicians, a staff of about 100, and was serving about 10,000 patients.
At the time of the acquisition, Space Coast was using an older EMR system known as ARIA, which Vinarsky described as "very inferior" to the system they were using at the other facilities.
"They told us that we were going to transition to one system," said Vinarsky, "but they purchased it without the ability to integrate it."
This meant having to use two systems that could not communicate with one another. "We were told that they were going to transition over to our system, but instead, we went over to ARIA," he said. The transition was made "overnight…. I felt like Alice in Wonderland."
Health First began using ARIA in 2019. Vinarsky alleges this decision was based on cost savings — the use of ARIA would save about $9 million a year. But the system prevented the flow of information and medical records among physicians, he said. For example, if one of the physicians referred a patient for third-party testing, ARIA did not properly share the information with the referring clinician or any other clinicians involved in the patient's care. Vinarsky explained that he didn't know whether or not a test had been conducted and that he could not see the results. It was up to him and the other physicians to hunt down medical records. He said he made numerous complaints to Health First about the system, to no avail.
The lawsuit alleges that his complaints regarding ARIA were another reason for his termination.
Termination for Cause
According to the lawsuit, Vinarsky was terminated for cause on the basis of following allegations:
He received a complaint in 2017 from a colleague who said he acted aggressively toward her.

In 2019, he sent email to the vice president of oncology operations at Health First in which he admitted he could sometimes come across as insensitive and abrasive.

He had heated exchanges on social media in November 2020 regarding the presidential election.

He told a long-time patient with metastatic breast cancer who had recently suffered an acute cardiac event that she would benefit medically from losing weight.

He called the oncology operations director incompetent.

He received a one-star rating on Google from the daughter of a 90-year-old patient.
In an interview with Medscape Medical News, Vinarsky said that that Google review "was from the patient's irrational daughter and not the patient.
"I did tell the breast cancer patient very gently that she needed to lose weight, as she was very overweight and had serious cardiac complications," he continued.
He also admitted that he told the manager that she was incompetent, but he also said that he wrote her a letter in which he apologized and said that he could have handled the situation better.
Vinarsky said there was no sign that he was going to be fired and that he had no reason to believe that his job was in jeopardy.
On April 1, 2021, 2½ months before being terminated, Vinarsky signed a 3-year employment agreement that included a noncompete clause.
"On April 1, they gave me a 2-year contract and then added on a 1-year extension," he said. "So why would they do this if they knew they were going to fire me?"
Vinarsky alleges that his termination is part of Health First's plan to create a healthcare monopoly in Brevard County, where all of the facilities are located. Having him sign the noncompete agreement, he believes, was to keep him from practicing in the county.
He added that several managers and at least one other doctor were also fired.
"I'm blacklisted, and many others were terminated, but I am taking a stand," said Vinarsky. "This is simply trophy hunting, and I'm asking for compensation. And I want to stay in this community and continue caring for my patients."
Health First's Romanello emphasized that the company will defend itself against what he described as "Vinarsky's frivolous lawsuit." He said that while doing so, "we remain steadfast in our dedication to support his former patients and provide respectful, high-quality, compassionate care."
For more from Medscape Oncology, join us on Twitter and Facebook.
Source: Read Full Article