About half of patients with age-related macular degeneration (AMD), and a high percentage of the people who care for them, experience depression and anxiety about their disease and treatment. But the healthcare system — and retina specialists in particular — do little to address these issues.
"I'm sorry to say, I think we still have our head in the sand," Richard Gale, MBChB, PhD, a professor at Hull York Medical School, United Kingdom, told attendees at the European Society of Retina Specialists (EURETINA) 2023.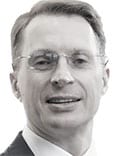 Dr Richard Gale
"The state of well-being in those with sight impairment is significantly impaired in up to 42% of those being treated for potentially blinding conditions across the globe," Gale later told Medscape Medical News. "It is poorly measured, likely to be underestimated and often not proactively enquired about or managed."
Gale called for a consensus statement to address mental health and well-being in people with impaired vision. "A statement jointly by healthcare professionals, patient advocacy groups, industry and policy makers on commitment to proactively address well-being is needed," he said.
Lack of Evidence
The research into mental health and well-being in patients with AMD is paltry and flawed, Gale said in his presentation. "Actually, we don't measure patient-care reported outcomes consistently in the real world," he said.
Gale reported on a literature review published recently of studies that explored patient mental health and caregiver burden specific to AMD. Among all papers and conference abstracts in the MEDLINE and Embase databases through October 2020, only 63 met criteria for inclusion, and of those, only 15 evaluated quality of life (QoL) before and after treatment with antivascular endothelial growth factor (VEGF) agents, he said.
The studies used various tools to measure QoL, including the 25-question National Eye Institute Visual Function Questionnaire (NEI-VFQ-25). Of those, eight described a statistically significant improvement in the composite NEI-VFQ-25 score at varying timepoints after baseline.
In the 63 studies that met inclusion criteria, the rate of depression or depressive symptoms reached as high as 42% of patients with neovascular AMD (nAMD), Gale said. But the rates varied among studies conducted in the United Kingdom, the United States, and the European Union, from 15% to 26% for anxiety and 8% to 18% for depression, he said, reflecting the use of different QoL tools in the different regions.
In the eight studies that used the NEI-VFQ-25 tool, up to 60% of patients were anxious about their vision assessment and up to 20% about receiving intravitreal anti-VEGF injections, he said.
The literature review also revealed these findings about caregiver burden:
47% were a child or grandchild and 23% a partner

60% attended all appointments (30% of patients attended them alone)

30% said the frequency of visits was inconvenient

80% of patients had five or more medical comorbidities
"This will surprise you: The use of quality-of-life and vision-related quality-of-life tools was pretty unsatisfactory really," Gale told attendees at the meeting. "Patient perspectives are poorly represented often in studies, particularly in neovascular AMD studies. There's a very heterogenous use of tools and some of them are not validated. There's often a lack of control groups, and often there's not a comparison between the patient and physician perspective. So, I asked, are we really understanding with these tools what the burden is?"
International Survey Results
Gale also presented results from the international nAMD Barometer survey of 6425 patients with neovascular AMD in 24 countries (not including the United Kingdom or United States). Nearly 46% of patients said treatments were too frequent, and a similar percentage — 44.4% — were concerned about being a burden to family or friends.
The survey also found that 39.4% of patients found getting to an eye clinic difficult and 62.2% of providers said capacity restraints hindered their ability to deliver the best outcomes to their patients.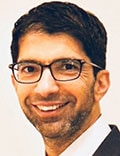 Dr Tariq Aslam
Tariq Aslam, MA, MBChB, PhD, a retina specialist at Manchester Royal Eye Hospital and professor at the University of Manchester in the United Kingdom, organized and moderated the EURETINA session on patient mental health at which Gale presented his findings.
"I endorse all his comments as well as those of all the other speakers who have highlighted the importance of thinking about patient well-being when managing patients," Aslam told Medscape Medical News.
This panel was unique in that it included the patient perspective, "what is, unfortunately, all too rare to hear in conferences," Aslam said.
Gale's talk, "as well as others highlighted the importance of putting the holistic patient needs at the center of our care," he added.
European Society of Retina Specialists (EURETINA) 2023: Gale R. Symposium Session 21: Patient Mental Health and Caregiver Burden in AMD. Presented Oct. 8, 2023.
Gale disclosed relationships with AbbVie, Apellis Pharmaceuticals, Amgen, Bayer, Biogen, Heidelberg Engineering, Novartis, Notal Vision, and Roche. Aslam disclosed relationships with Bayer, Novartis, Thea Pharmaceuticals, Allergan/AbbVie, Roche, Topcon, Heidelberg, and Canon.
Richard Mark Kirkner is a medical journalist based in the Philadelphia area.
Source: Read Full Article