With physicians feeling squeezed by medical school debt, burnout, and uncertainty about the direction of the healthcare landscape, medical moonlighting has become not only a reality for many but also an exciting way to make extra money.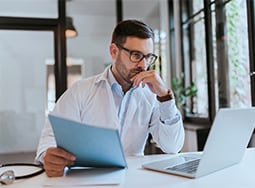 In Medscape's report, Side Gigs: Physicians Seek Extra Income, More Satisfaction, nearly 4 in 10 doctors reported having a side gig and earning $25,300 on average this past year.
But the fulfillment gained from "medical moonlighting" may be even more compelling. With medical moonlighting, physicians take on side gigs that involve some aspect of the medical field — working in a clincal trial or reviewing health insurance claims, for instance. The Medscape report found that 23% of physicians found that those side gigs were more fulfilling than their day jobs.
Ask Daniel Shin, MD, a urologist in Memphis who runs a blog called The Darwinian Doctor, and he'll tell you that medical side gigs offer physicians an abundance of flexibility.
"Often the most convenient first side gig option is a locum position," he says. "Traveling to another location and doing a week of work during what otherwise would be vacation time offers a twofold return. Physicians can increase their incomes, which they can invest, and it gives them a sense of psychological freedom from their day-to-day work."
Medical Moonlighting May Be Trending
Career-related side gig options are varied and can include medical consulting, serving as an expert medical witness, medical file review, telemedicine, and medical writing/blogging. Of course, nonmedical options are just as broad, and physicians have been moonlighting in real estate or financial planning for decades. But using the knowledge and skills you've built as a physician in a medical side hustle can diversify your income and reduce the likelihood of burnout or moral injury.
In addition, for those in the field, medical moonlighting is likely to become more commonplace as the physician workforce becomes more tired and burnt out, even though many physicians now work for hospital-based practices rather than in private practice.
"While there are incredible benefits to employment, efficiency, and care delivery and freedom from a business perspective, the downside is that you can lose your autonomy," Shin says. "Perhaps by accepting employment instead of being in private practice, your income may not be where you want it to be. This is yet another reason side gigs can help a physician feel a bigger sense of autonomy, too."
That said, the one thing you should always factor in: transparency. It's essential to be transparent with your current employer about any opportunity you pursue.
"A lot of contracts write that you can't be medical moonlighting specifically or that there are limits to it," says Jordan Frey, MD, a plastic surgeon in Buffalo, New York, who blogs about side gigs on Prudent Plastic Surgeon. "You want to make sure that it's allowed. That's just for your own protection and to protect your main income source and for things like liability against malpractice."
You also want to make sure you're covered liability-wise, Frey tells Medscape.
"Even telemedicine has become quirky," he says. "If you're doing it out of state or teleconsulting with someone out of state, do you need a license in the state you're in or [the state] the patient is in? You want to be sure all of these things are covered."
Also, ask whether it's your employer or the company you're contracting with that offers malpractice coverage.
Where to Find Medical Side Gigs
"Whatever the opportunity, the most important aspect is that this gig aligns with your values and your comfort level as a physician," Frey says. "You want to make sure you're not taking on an opportunity that doesn't seem ethical, that isn't a good fit, or puts you in an unsafe situation."
It's also helpful to take the time to network with colleagues in the field if you're looking for these opportunities, Frey says. "The best way to find out about local medical side gigs is via word of mouth."
A mentor, whether someone at your hospital or someone you might meet at a local physician or hospital society, can play a pivotal role in helping you develop your medical side hustle.
Another option is to do some online research and find someone who has taken the kind of side gig you're interested in that you can learn from. Whether you visit a site like Frey's or others, look for vetted opportunities.
Medical Moonlighting Cautions
Ultimately, while the sky's the limit for medical moonlighting, provided you have the stamina and time, there are a few key caveats to consider if you're looking to lock in a medical side gig.
For many, the perception is still that a physician should have one all-consuming job, and that's to care for their patients. So, be aware that speaking about your medical side hustle may be viewed unfavorably by some.
"That's a traditional view of a physician," Shin says. "The concern might be that by having a source of income outside your main job, your focus might be diverted from your main patient population. I would argue that physicians are eminently capable. Just because they have a thriving business on the side or another medical source of income, that doesn't mean that they have any less dedication to their primary patients."
In the end, never take a gig that makes you uncomfortable.
"If you sense some huge red flags, skip it," Frey says. "It's never worth the compensation to put your reputation on the line or patient care. The gig has to pass the smell test."
Lambeth Hochwald is a New York City–based journalist who covers health, relationships, trends, and issues of importance to women. She's also a long-time professor at NYU's Arthur L. Carter Journalism Institute.
For more news, follow Medscape on Facebook, Twitter, Instagram, and YouTube.
Source: Read Full Article